On a High Note
Our newest album, On a High Note, includes the music of Joshua Glassman's tenure as the Glee Club's Director, as well as classic PGC repertoire such as "A Pennsylvania Medley" and "Afterglow."
Track List
1. When I Was in Love with You
2. Red, Red Rose
3. Go the Distance
4. Adinu
5. Haul Away, Joe!
6. Libertango
7. Gold
8. Somebody to Love
9. A Pennsylvania Medley
10. Afterglow
Harmoniously Yours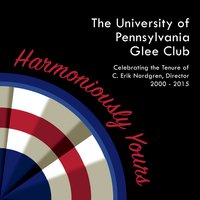 Harmoniously Yours represents the end of an era. This disc contains material from the entire 15-year tenure of director Erik Nordgren. This album contains songs from as early as 2004 and as recent as 2014, and is a must-have for any fan of the Penn Glee Club.
Track List
1. Sixteen Tons
2. Dúlamán
3. Prayer of the Children
4. Joshua Fit the Battle of Jericho
5. Country Roads
6. In My Room
7. Witness
8. Salmo 150
9. Lullabye
10. Land of Hope and Glory
11. Ward the Pirate
12. Set Me as a Seal
13. Didn't My Lord Deliver Daniel?
14. Weep, O Mine Eyes
15. Baba Yetu
16. Gaudeamus Igitur
17. Old Joe's Place
18. The Last Cigar
19. Sicut Cervus
20. The Yellow Rose of Texas
21. How Can I Keep From Singing?
22. Go the Distance
23. Pure Imagination
24. Down Among the Dead Men
25. The Awakening
26. Kaval Sviri
27. Say Goodnight
28. Bright Lights, Bigger City/Magic
Philadelphia Noir

Order your very own DVD of the Penn Glee Club's 2015 Spring Show!
Prime Time
Order your very own DVD of the Penn Glee Club's 2014 Fall Show!
Office Bass: A Corporate Musical
Own the Penn Glee Club's 2013 Spring Musical on DVD!